While most schools run their portraits in the late summer or early autumn, there are plenty that supplement those photos with winter portraits that give parents even more options of great photos of their children, especially right ahead of the holidays. While winter portrait sessions vary greatly from school to school, these differ in that they provide more versatile backgrounds and a different look in terms of the clothes a child may wear.
In fall portraits, the colors are more autumnal, with short sleeves and dresses, but by winter that approach obviously changes rather drastically. The following are a few tips from ABC School Photographers to help children dress up appropriately for winter portraits.
Dress Warm
The biggest change from autumn portraits to winter portraits is the student's ability to dress in warmer clothing styles. Obviously sweaters are the most popular article of clothing for winter photos, but there are countless different types and styles of sweaters from which to choose, to say nothing of printed shirts and long-sleeve dresses over leggings. Whatever the case, dress snuggly and warm for photos meant to fit the winter season.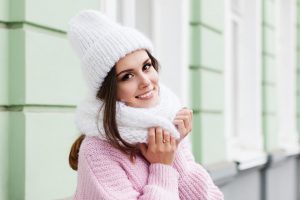 Textured Fabrics Look Great
When it comes to colors and textures, we've seen it all, but obviously deep colors or white are seasonal this time of year. Textured clothing looks especially nice in these types of portraits, including everything from cable-knit sweaters to wool to tweed. Patterns and textures photograph beautifully and are especially appropriate for the colder time of year.
Stylish Boots Fit the Season
A lot of female students like to add boots to their ensemble, and since winter portraits often provide students with a zoomed-out, wider-lens view of the subject, there's a good chance the boots actually will show up in the photo. Calf-high boots are especially classy and popular at the moment and can add a lot to an outfit that involves a dress or long sweater with leggings.
Avoid the Christmas Look
Tempting though it may be, try to avoid wearing Christmas colors in the winter portraits, and definitely avoid wearing clothing with actual holiday logos and symbols on them. These are only good to hang up in a house or on a refrigerator during that time of year, and the truth is that winter often lasts well into March in this part of the country. Keep the winter looks neutral and avoid the full-blown festive holiday aesthetic.
Keep Accessories Simple
In winter, students absolutely are going to want to add some accessories to their photos, especially if it's a senior portrait session taken outside. Try to keep the accessories simple, though. An infinity scarf looks great with a lot of sweaters, and when it comes to outside photos we see plenty of cute stocking caps and perhaps even gloves. Keep jewelry minimal, though. Understated is better with the warmer-looking clothing.
Schedule a Session
ABC School Photographers provide winter portrait services for schools all over New York and New Jersey, so if you have any questions for our school photographers about how these may work for your school, give us a call and we'll help ensure your children are dressed their best for this year's winter portraits.