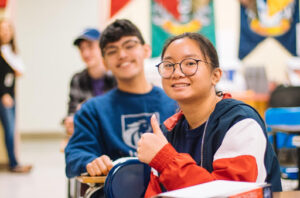 Most students work hard to maintain their individual image throughout their school years. Clothing choice, friends, student government affiliations, and the clubs you join all reflect who you are as a person and who you hope to be in the future, but as time fades, others may forget the little things you did throughout grade school and high school. Your yearbook photos in New York give you the best opportunity to shape how you are remembered for years to come, so it is important that you give them some thought in order to ensure that the image on the page reflects who you were. While there are some basic guidelines that your school and photographer will ask you to follow, there is a lot that you can do to make your picture day photos truly unique and very you.
Learn how ABC School Photographers can capture your best self.
Wardrobe
It can be tempting to wear a fancy new outfit on picture day, but this can be a recipe for disaster. Brand new clothing can be uncomfortable when you first begin wearing it, or the material may be itchier than you anticipated. For this reason, it can be a good idea to select a picture day outfit you are used to wearing. Perhaps you have a signature shirt that your classmates will remember or a color that truly accentuates your eyes or skin tone. If you do want to wear something new on picture day, purchase it a few weeks ahead of time so you can wash it and wear it for even a few hours to anticipate any problems that may arise. If you wear glasses, consider leaving them on for photos, as your classmates may not remember you without them. If you were rarely seen without a particular necklace or earrings, seeing those gems years later may jog your friends' memory and bring back good times. Avoid logos, words, or loud patterns that will distract from your face, but don't be afraid to wear something fun.
Hair And Makeup
As with wardrobe selection, picture day hairstyles and makeup should be familiar and fairly simple to avoid any unforeseen disasters before your photo shoot. If trying out a new color or cut, again, do so at least a week before picture day so that you have time to troubleshoot and experiment and get used to how it looks on you. Make sure that you bring anything you need to touch up your hair and makeup with you, as travel and daily activities can take a toll on your look. Simple styles will be easiest to keep looking neat and tidy, so if you are attempting a more complicated look, make sure your appointment is early in the day to minimize the chances that something could destroy your attempts.
Pose And Expression
Unlike your wardrobe or hairstyle, your yearbook photo pose will not be finalized until the very last second. However, that doesn't mean you should just wing it. Practice posing in front of the mirror or even by taking some selfies. Master your best side and find ways to minimize any facial features you are not so proud of. Remember to look up slightly and get into pose a few seconds before the camera snaps your photo to avoid closed eyes and double chins. Your school photographer in New Jersey will likely take several shots, so try different expressions and decide later which truly reflects your true personality.
Create Your Memories Today With School Photography New York
Now that you know how to create the best and most authentic picture day style to reflect your personality, it is time to put those skills into action. Contact ABC School Photographers today for skilled and professional yearbook photos in New York and New Jersey.